Moving home?
Let us take the hassle out of changing utility providers
Move home, hassle free
Need to tell your providers about an upcoming move?
Or even organise services for your new home?
You're in safe hands.
TransferMyBills is the revolutionary change of address service designed to contact providers in minutes, completely free!
How does it work?
Enter your postcode
Using just a postcode we automatically identify the utility providers & council(s) that require contacting.
Add your personal details
After a few personal details you'll enter your transfer dashboard, where you can track your entire move.
Select your suppliers
Next simply select the rest of the suppliers you would like to notify from the hundreds in our system.*
Start your transfer
All that remains then is to confirm the start of your transfer & we'll notify all of the listed suppliers so you're up and running by the time you move in.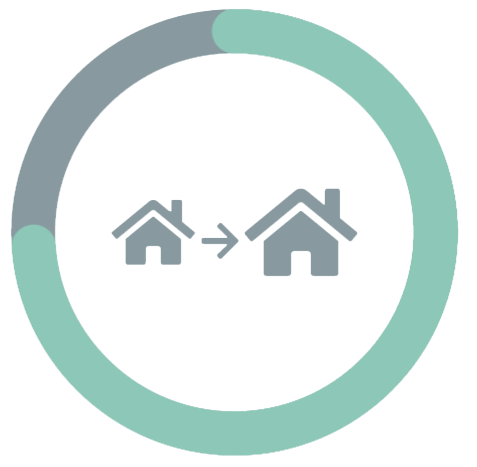 * If you're moving for the first time we can help you to arrange suppliers for Electric & Gas, TV & Broadband, with more new offers being added each week.
Start your move

Existing Bill Payer?
First Time Mover?
You have existing utilities such as Energy, Water and Council Tax and need to tell them you're moving.
You don't currently have utilities but will need to set them up at your new place.
Set a reminder to use TransferMyBills closer to your move
Frequently Asked Questions
Does this service cost?
The TransferMyBills service is free for all customers.
How long does it take?
Identifying your providers and reaching your interactive transfer dashboard usually takes around 3 minutes.
How far in advance shall I do all of this?
Preferably a week or two before your move, allowing enough time for suppliers to act on our notifications. Accounts can be set up well in advance, but make sure to Start Transfer when you have all the move details confirmed.

Show Less FAQs
See More FAQs

Can you get me a good deal on new services?
Certainly! We can help you take advantage of exclusive offers on energy, home insurance, television and broadband, with some of the best brands in the UK. If you need some extra help, our team offer a concierge service and will be in touch.
What happens after I start my transfer?
We electronically send the notifications of your move to the selected providers, with clear instructions if you need to do something. Your Dashboard will show relevant information regarding your move and we will email you updates on transfers as they complete.
So every supplier confirms automatically?
Most of them do, excluding a few that haven't caught up with technology! All of the essential sectors are covered, but some providers such as insurers may require further action from yourself. If so, we show you where to go and what to do.
Is my data secure?
Your data is secured in an encrypted database and we only provide your move details to the companies you confirm with us.
How do you earn, if all this is free?
We earn a small fee if you adopt a new product or service from any of our partners. Surprisingly enough we also earn from some of your existing providers, who pay us a fee to help facilitate a smooth move for their customers.
Still have questions?
You can email us at Helpmemove@TransferMyBills.comor call us on +44(0)20 8191 9222
Our live chat service is open Monday – Friday from 9.00am – 5.00pm.
You can still leave your message outside these hours and it will be picked up within a few hours.
Start saving on
broadband and TV
Did you know 20 million broadband customers have let their contract lapse, missing out on potential savings? †
Take a look at today's best offers and see whether you could be paying less.
† Ofcom research – December 2021